AUTOMATION SERVICES:
AUTO-QUOTATION & ONLINE ORDERING SYSTEM
Commencing the digital transformation journey by adopting automation solutions to increase revenue, reduce costs and scaling operations is essential to improve the bottom line. An autoquotation and online ordering system is a powerful enabler as it can be used to provide quick responses for your customer requests for quotation with minimal effort and maximize the closure of deals to improve the top line as well as bottom line for your business. Manex consultants have several decades of product and service innovation experience in information technology and more recently in digital transformation and automation for factories to deliver an affordable and turnkey auto-quotation and online ordering solution.
How An Auto-Quotation and Online Ordering System Can Help You
Manex focuses on building an achievable and sustainable plan for a three to five-year period including projections, strategy and tactics to get there in addition to building a solid mission, vision and set of values. We work directly with the C-suite and key division heads in teaching leadership, strategy development and execution.
Slow request for quotation (RFQ) responses can result in loss of business.
Highly skilled labor spent on RFQ processing increases operational costs affecting the bottom line. RFQ processing is typically performed by the highest rate labor.
Lower rate of deal closure results in lower revenue growth and increased idle time adversely affecting the top and bottom line.
How Manex Will Address Your Business Needs
We deliver a modular and extensible auto-quotation and online ordering system with the following capabilities:
Instant, fast and custom RFQ processing
Configurable auto-quotation engine which can be adapted to changing material and labor costs
Quotation reminders and online customer collaboration to maximize deal closure
Online ordering system that includes shipping cost estimation and online payment
Productivity and sales analytics with actionable recommendations
Secure user management to deliver a secure experience and track/leverage profiles to deliver a custom experience
Data export and legacy system integration
Experience Measurable Benefits
Response to quotation request can be instant or within a couple of hours for 95% quotations with just a few minutes of effort resulting in cost reduction.
Deal closure (percent of quotation which result in a purchase order) can significantly increase especially when combined with digital marketing initiatives resulting in increased in revenue.
Progressively, resource utilization (i.e. people, machines) is optimized and/or maximized resulting in cost reduction.
Other Digital Transformation Solutions and Services for You
Adopting an auto-quotation and online ordering system can be considered as the first step in your factory's digital transformation journey. A holistic approach would include adopting other solutions (refer to diagram below) that increase revenue (digital marketing), reduce costs (workflow monitoring and management) and scale your operation (remote computer numerical control [CNC] programming) with minimal investment in capital equipment and labor.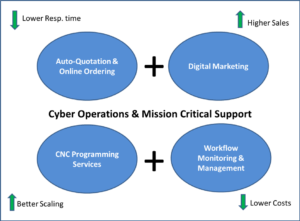 Our projects average more than 600% ROI – that's a $6 return for every dollar invested in these activities.
How do I get started?
For more information or to schedule an appointment, contact Manex at 925-807-5100 or email bizdev@manexconsulting.com.