Written by Expert Panel, Forbes Coaches Council (including Manex President & CEO Gene Russell)
Reposted with Permission — Originally on Forbes.com
As a leadership style, micromanagement is typically not only ineffective, but also detrimental to the performance of the manager's team. While being more involved might make bosses feel more in charge, sooner or later, their direct reports will start to feel untrusted, undermined and resentful. When productivity and morale begin to suffer under the strain of micromanagement, cycles of frustration and distrust can hinder good work on both sides of the manager-employee relationship.
If you are struggling under the thumb of a micromanager, you may be wondering if it's possible to tactfully and professionally address your concerns without causing a rift between you and your boss. Thankfully, there are effective ways to improve the dynamic between you. Below, members of Forbes Coaches Council outline 13 effective approaches for dealing with a micromanaging boss.
1. Ask What You Can Do Better
Being direct is best. Ask what you can do to better address your manager's needs. Your manager may respond with, "But you already are." After setting the intention of improving collaboration and support, advise your manager that you are most productive when you're given the time and autonomy to meet those needs. Schedule weekly check-ins to alleviate the hovering. This will put you and your manager at more ease. – Joyel Crawford, Crawford Leadership Strategies, LLC.
2. Try To Understand Your Manager's Perspective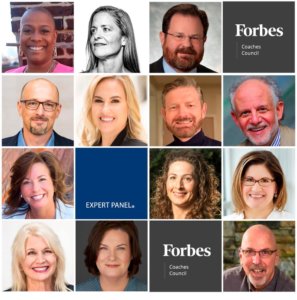 Understand the needs behind the micromanaging tendencies of your boss by getting as much information about his or her perspective as you can. For example, try asking these questions: What are your key objectives for this initiative? What are your success hypotheses? What are your deal breakers? How, and how often, do you want to be informed? – Katharina Schmidt, Inspiration & Discipline
3. Be Positive, Candid And Specific
Have a productive conversation with the boss by setting a positive intention. Identify specific behaviors without judging or labeling. Describe your feelings when those behaviors are directed at you. Say what the behaviors lead you to think about the boss, yourself, the desirability of the job and so on. Then, specify and ask for the kinds of behaviors you want to see going forward. – Bill Gardner, Noetic Outcomes Consulting, LLC
4. Give Feedback On How It Impacts You
Give the micromanaging boss direct feedback, but never say the word "micromanaging." Focus on behavior and impact—the time it takes to prepare updates getting in the way of completing your work on time, for example. Then, negotiate a different solution that works for both of you. – Jamie Notter, Human Workplaces
5. Tap Into Your Manager's Deeper Aspirations
Ask your manager about the ultimate outcome she hopes to get from the assignment. I call it the "then what" question: "After I complete this assignment, what happens next? If this were to be a big success, what would the most ideal outcome be?" If you can get the micromanager to understand that you both see the same destination, it will often prompt her to release her tight grip on the reins. – April Armstrong, AHA Insight
6. Drill Down To The Root Cause

Some managers are prone to micromanaging as their go-to style, but it can also be the result of a bad hire or the work style of the employee. If you feel that you are being micromanaged, then you need to find the root cause. Is it a cultural fit issue? This catch-all category includes just being disliked. Are you not managing to deliver what your boss wants? Are expectations unrealistic? Find out. – Gene Russell, Manex Consulting
7. Focus On One Hindering Behavior
Prepare by taking a behavioral view of what the micromanager does that hinders your work getting done. Once you recognize the most important hindering aspect, identify what you would rather the manager do and how it could help both of you. Now, staying behavioral, avoiding labels and being helpful, have a dialogue with your manager about that one aspect until you land on something you can both try out. – Jeffrey Cohen, Performance Leaders, LLC
8. Connect To Build Synergy And Trust
We all know it comes down to trust. When others don't trust our decisions or abilities, they feel like they have to keep watch over us at all times. Develop synergy and build trust by creating time to connect and share what you're doing, how it's going and what comes next. This allows the leader to start to trust the person and the process while creating space for the employee to grow into that trust. – Marlo Higgins, Marlo Higgins, Your Chief Inspirational Officer
9. Align With Their Expectations
Most micromanagers have trust and control issues. Identify what is important to them. Understand how often they need information. Align with their expectations. This may seem taxing at first. When you develop more trust, they are more likely to relax their need for control. Have frequent conversations to help them understand how their decisions impact your work. – Erin Urban, UPPSolutions, LLC
10. Anticipate Curveballs And Overdeliver
Micromanagement usually stems from a lack of trust or confidence, either in oneself or in others. Learn what your manager values and wants, anticipate the curveballs, and overdeliver on your promises. Focus on building trust by consistently delivering results. Even if you can't change their behavior, you will have great results to show for it, and no one can take that away from you. – Jill Hauwiller, Leadership Refinery
11. Partner Up For Win-Win Success
Help your boss see that it makes both of you winners when you complete your work. Invite conversations and create agreements about what kind of support you do or don't need to be successful, and talk about what the boss needs to be successful as well. – Christine Rose, Christine Rose Coaching & Consulting
12. Guide Their Involvement
Sometimes micromanagers don't know they are micromanaging. Employees need to provide guidance about how they will be most productive. Request room to work more independently by asking, "Can I run with this on my own and check in with you at milestone No. 1?" Showing micromanagers that they will still be involved can help make them feel more comfortable backing off. – Stacey Staaterman, Stacey Staaterman Coaching & Consulting
13. Make Your Point With A Smile
Micromanagers usually hate being identified as such. Thus, the easiest way to remedy this situation with a micromanaging boss is to meet in private and—with a big, friendly, non-confrontational smile—ask, "Don't you trust me? You keep injecting yourself into the details with me, and you've got to have better things to do than that." Smiles and laughter often go a long way toward making a point with people. – Jeff Altman, The Big Game Hunter