By Dave Cranmer, Deputy Director of the Hollings Manufacturing Extension Partnership (MEP)
Reposted with permission ( https://www.nist.gov/blogs)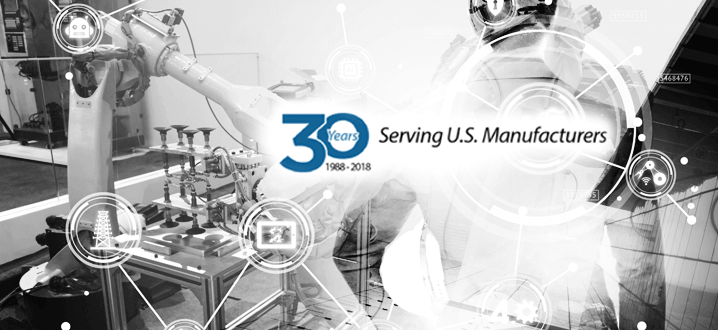 Since its founding in 1995, Manex has been a highly regarded and rewarded MEP Center.
August 23, 2018 represented a milestone in the Hollings Manufacturing Extension Partnership (MEP) program at the National Institute of Standards and Technology. Thirty years ago, on this date in 1988, President Ronald Reagan signed the Omnibus Trade and Competitiveness Act (Public Law 100-418). Section 5121 established the Regional Centers for the Transfer of Manufacturing Technology and the Assistance to State Technology Programs, the precursors to today's MEP.
Looking back, the history of MEP is truly the history of the manufacturing sector. Over the years, MEP's network of Centers and selection of service offerings has evolved to address the challenges of small and medium-sized manufacturers (SMMs), who make up 99% of the manufacturers, ever advancing U.S. manufacturing. Since 1988, MEP has worked with 94,033 manufacturers, leading to $111.3 billion in sales and $18.8 billion in cost savings and helping its clients create and retain 985,317 jobs, based on data collected since 1998.
Here are what I like to think of as the four "eras" of the last 30 years in MEP — and manufacturing — history.
Achieving a National Presence (1988 – 1996)
While the legislation established the Regional Centers in 1988, they didn't start serving clients until 1989. The first three were the Northeast Manufacturing Technology Center in New York, the Southeast Manufacturing Technology Center in South Carolina (home state of Senator Ernest "Fritz" Hollings, champion of the program for whom the Hollings Manufacturing Extension Partnership is named), and the Great Lakes Manufacturing Technology Center in Ohio.
Modeled on technology extension services such as the Kohsetsushi Centers in Japan, the Fraunhofer-Gesellschaft Institutes and Steinbeis Centers in Germany, and the Industrial Research Assistance Program in Canada, the Manufacturing Technology Centers (MTCs) had a mission to support the transfer of manufacturing technology to improve the productivity and technological capabilities of America's small manufacturers, based on NIST's Shop of the 90s program in what was then the NIST Manufacturing Engineering Laboratory (now part of the NIST Engineering Laboratory).
The inaugural program was a success and four more MTCs were created by 1992: The Midwest Manufacturing Technology Center in Michigan, the Mid-America Manufacturing Technology Center in Kansas, the Upper Midwest Manufacturing Technology Center in Minnesota, and the California Manufacturing Technology Center.
By 1996, thanks to additional federal funding, a partnership with the Department of Defense, and a merger with the State Technology Extension Program (STEP), what started as the regional MTC program went national and was re-christened the "Manufacturing Extension Partnership" (MEP).
The Era of Point Solutions (1997 – 2005)
With 60 MEP Centers covering all 50 states and Puerto Rico — and nearly a decade of information from the field about the challenges facing manufacturers — MEP set out to devise national service offerings that could assist U.S. manufacturers and increase the competitiveness of U.S. manufacturing.
What MEP's work in the field had revealed was that emerging technology wasn't necessarily the answer to all issues facing U.S. manufacturers. Quite the contrary, most manufacturers across the country needed "point solutions" to address immediate needs — particularly when it came to improving efficiency and meeting increasingly rigorous industry quality standards.
MEP's first concerted effort at continuous improvement was its Lean 101 program, which was designed to introduce SMMs to lean concepts through both training and simulation. Nearly all MEP Centers adopted some version of Lean 101 and tens of thousands of manufacturers have been trained in lean by MEP Centers using the core principles. This foundation also provided the basis for the development of other lean enterprise products and services, including value stream mapping, setup reduction, cellular manufacturing, kanban, and Total Productive Maintenance (TPM).
At the same time, MEP also developed programs to guide manufacturers through the process of acquiring certifications in various quality standards, including general standards in the ISO 9000 series, the environmental management–focused ISO 14000, and more specialized industry-focused standards such as AS 9000 and QS 9000.
The Decade of National Growth Programs (2006 – 2015)
With the nationwide success of its lean and quality programs, MEP started looking at the U.S. manufacturing sector and considering where MEP, as a national organization, could provide more holistic solutions to manufacturers across the country.
Consistently, feedback from the field indicated that U.S. manufacturers needed assistance with longer-term value creation, including growth strategies, product and process development, and supply chain optimization, as well as more focused efforts at technology acceleration and commercialization that could deliver attributable returns on investment.
MEP responded with programs such as ExporTech™, which helps SMMs and smaller technology companies expand into global markets; Innovation Engineering, an attempt to create systematic processes around innovation that leads to new products and processes; and technology acceleration services such as Technology-Driven Market Intelligence, which is a systematic approach to technology-focused market intelligence and Technology Scouting, which identifies the benefits and the market impacts related to a company's technology-based asset (e.g., idea, product, process, capability).
The Future of Network Integration (2016 – present)
Over the past few years, MEP has fostered integration between NIST MEP, MEP Centers, and other representatives of what is today known as the MEP National Network™. As the years have gone by, we've come to recognize that experts at Centers and other participating organizations within the Network have developed specialized knowledge that needs to be shared with the rest of the National Network. Today, leadership within the Network springs from experts in designated practice areas that collaborate through a variety of means, including focused working groups as well as national meetings and summits, rather than solely from the NIST MEP program office in Gaithersburg, Maryland.
On many fronts, today the emphasis within the Network is again on technology transfer, dissemination, and commercialization. As manufacturers of all sizes prepare for Manufacturing 4.0, MEP is developing knowledge, leadership, and services in areas that are crucial to all manufacturers preparing to make the leap, such as cybersecurity, smart manufacturing, and the education of workers preparing to manage these emerging practice areas. If an impending sector-level development is poised to make a significant impact on manufacturing, some part of the MEP National Network is involved and is working to make expertise in that area available to the other 1,300 plus representatives who make up the Network. That level of expertise and willingness to share is what makes the Network "the go-to experts for advancing U.S. manufacturing," now and for the foreseeable future.
About the Author
Dave Cranmer is the Deputy Director of the Hollings Manufacturing Extension Partnership (MEP) at the National Institute of Standards and Technology (NIST). With MEP since 1993, he has overseen extension centers, conducted research on innovation, new product and service development and deployment, supply chains, technology roadmapping, eBusiness and exporting, built a business-to-business marketing consulting practice for smaller manufacturers, established specialty consulting practices in financial access, eBusiness, technology scouting and technology-driven market intelligence (TDMI). He has also worked on the formation of technology collaboratives using TDMI and a set of business-to-business network pilot projects for the MEP System. He is the current government representative on the U.S. Food and Drug Administration's Devices Good Manufacturing Practice Advisory Committee.